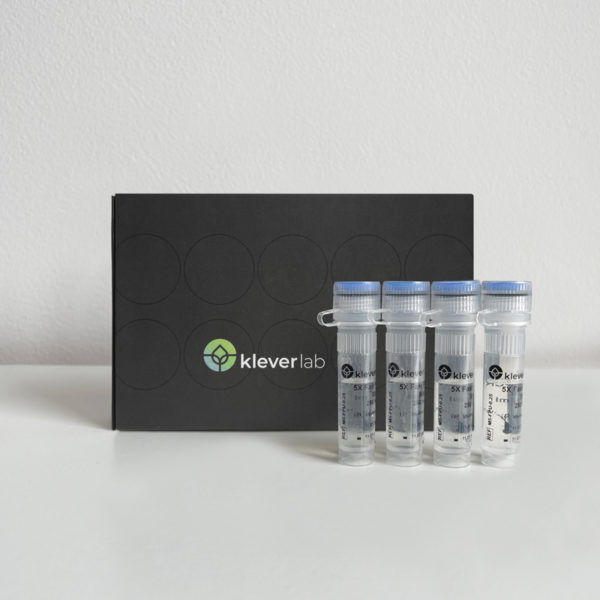 KleverTest COVID-19 Express Kit
170€ *Net price
Kit for the fast qualitative detection of SARS-CoV-2 RNA by one-step Real-Time PCR assay without RNA isolation.
Request for bulk size
Description
Properties
Additional information
Documents
Description
KleverTest COVID-19 Express Kit was designed for fast SARS-CoV-2 detection without preliminary RNA samples isolation and purification. Clinical samples (in a saline or PBS transport media) can be used directly for subsequent amplification. KleverTest COVID-19 Express Kit was validated for the following Real-Time PCR instruments: Mx 3005PTM QPCR System (Agilent), Rotor-Gene® 6000 (Corbett Research), Rotor-Gene® Q5/6 plex Platform (QIAGEN), CFX96TM Systems (Bio-Rad). KleverTest COVID-19 Express Kit primers and probes sets are designed to detect RNA from the SARS CoV-2 N genes (HEX/Yellow channel) and RNase P internal control DNA (FAM/Green channel). KleverTest COVID-19 Express assay primer and probe sequences are identical to the FDA EUA authorized CDC 2019-nCoV Real-Time RT-PCR Diagnostic Panel. An additional in silico analysis assessing the impact of the recently emerged SARS-CoV-2 variants on target detection by KleverTest COVID-19 showed that none of the observed mutations would be expected to interfere with N genes detection.
Benefits:
No RNA purification required
Analyzing time up to 60 minutes (from samples to results)
High sensitivity (up to 95.0%)
High specificity (up to 99.9%)
Limit of detection – 10 copies/reaction
Area of applications:
Storage and transportation conditions:
From + 2°C to + 8°C – 14 days
From -24°C to -16°C – 12 months

10 freeze/thaw cycles are allowed
Additional information
| | |
| --- | --- |
| Product Size | 100 reactions |