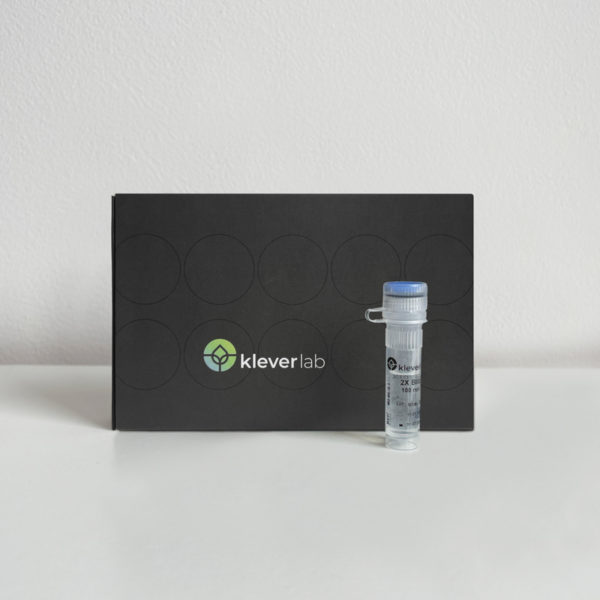 2X Blitz Mastermix
170€ - 1 040€ *Net price
Ready-to-use mastermix for PCR with increased synthesis accuracy and resistance to inhibitors. Suitable for preparation of NGS libraries.
Request for bulk size
Description
Properties
Additional information
Documents
Description
2X Blitz Mastermix is a ready-to-use mixture for polymerase chain reaction (PCR) with increased accuracy of DNA synthesis. Mastermix contains all the necessary components for PCR, including: thermostable DNA polymerase, dNTP and optimized buffer. The DNA polymerase included in the Blitz mastermix is a chimeric thermostable protein consisting of Pfu polymerase and SSO7d DNA-binding domain. The DNA-binding domain stabilizes the complex of DNA polymerase with the template, that leads to an increase in the processivity, synthesis rate, accuracy and stability of the enzyme in a high ionic strength of the solution. The mastermix has an increased rate of DNA synthesis (up to 3 000 bp/min) and is capable of amplifying DNA fragments longer than 10 000 bp.
Benefits:
Increased DNA synthesis rate (up to 3 000 bp/min)
Long fragments amplification (10 kbp or longer)
Increased inhibition resistance
Area of applications:
PCR with increased synthesis accuracy
Amplification of long DNA fragments
NGS libraries preparation
Storage and transportation conditions:
From -24°С to -16°С – 2 years
Up to 7 days at a temperature < +25°С

10 freeze/thaw cycles are allowed
Additional information
Product Size

100 reactions/1×1.25 ml
200 reactions/2×1.25 ml
400 reactions/4×1.25 ml
800 reactions/8×1.25 ml
Free sample